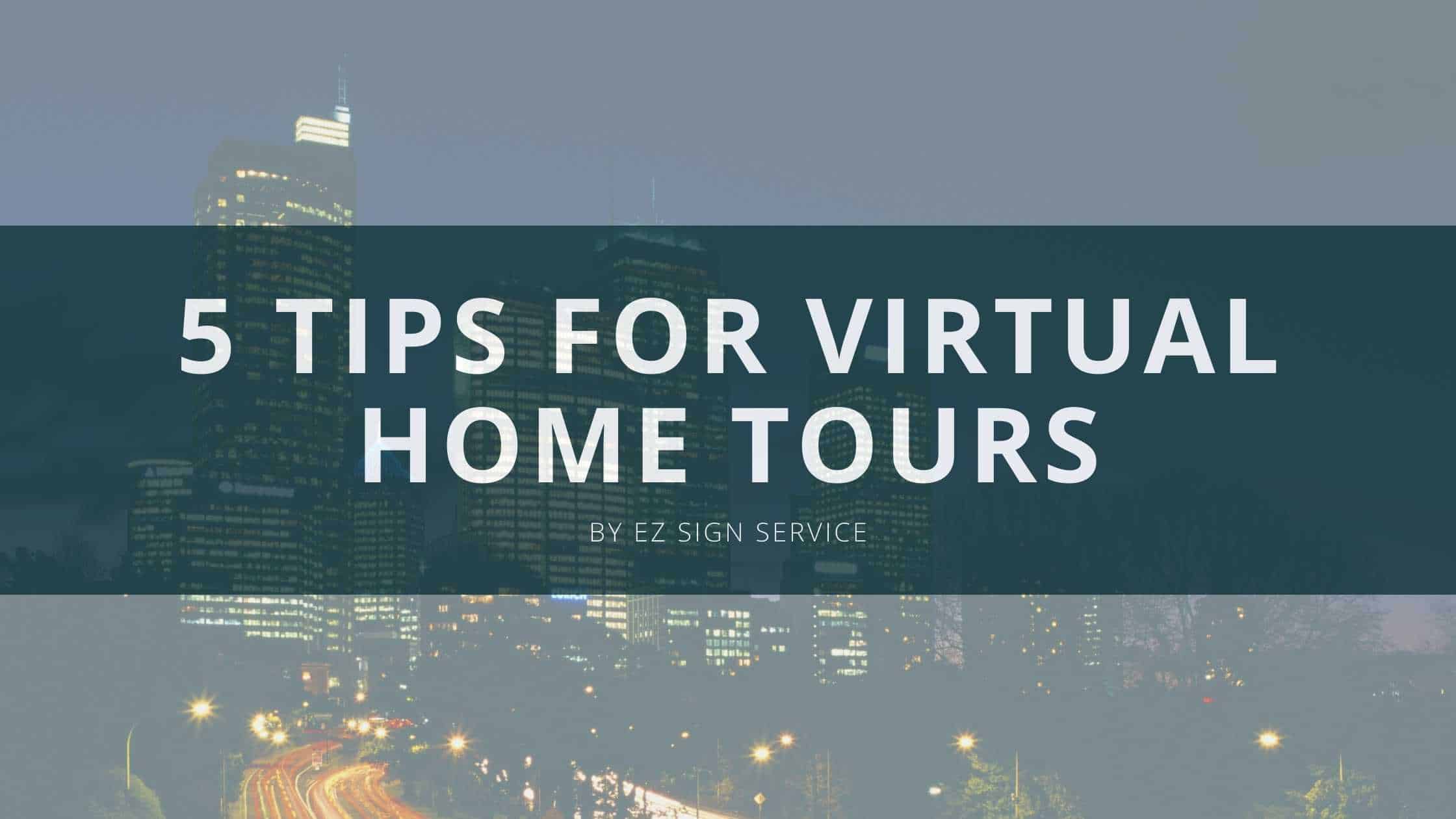 Real Estate is an adaptive industry. In this time of the COVID-19 pandemic, CDC regulations have advised against open houses and in-person tours of homes and properties for sale. This is temporarily put into place to maintain social distancing and clean environments. That being said, our best option for keeping our careers moving forward is by doing Virtual Home Tours.
EZ Sign Service has researched 5 Tips to make your Virtual Home Tours almost as good as in-person tours.
How Do Virtual Home Tours Work?
There are a few options for virtual home tours. The choice is ultimately the seller's and is based on their budget, time, and the equipment of the selling broker. Further, offering more than one option will help you sell the property faster.
A virtual tour is a "walk-through" of the property, either in 3D rendering or with actual video footage. Brokers and agents have used virtual tours as a bonus marketing technique for years, but now it has become essential.
Agents can host virtual open houses by recording a tour for their listing on their phone or camcorder. Buyers can facetime or zoom chat a tour with their agent to see the home before making an offer.
5 Tips to Rock Your Virtual Home Tours
1. 3D Home Tours
Some people prefer visual aids and need to see the measurements of the space to visualize it. With programs like Matterport available to brokerages, you can get a detailed 3D rendering of nearly any property. This allows your buyers to walk through properties of interest on their own devices.

2. Staging
When you record your virtual home tours, make sure the home is clean and well presented. If the home is vacant, virtual staging will help your buyers better envision the space. Virtual staging is less expensive than physical staging and can make all the difference between asking price and a lower offer.
3. Live Open Houses
Offering a live open house on Zoom can show your client's home to many potential buyers at once. Be sure to light the home well, dress professionally, and pre-plan your tour route. Leave time in your planned virtual home tours to answer any questions from those who joined you on the tour.
4. Don't Forget Your Exterior Views
If the house has entertaining space, a pool, or other features outside, make sure to show them off in your virtual home tours.

5. Follow Up
Make sure that you follow up with your viewers or their agents. Send them PDF documents with details on the house that may not be listed in the MLS. Following up an hour or two after the tour, and again 24-hours later will help keep your tour at the top of their minds. It also allows viewers to ask any questions they may have thought of after their discussion with their agent or family.
When you're ready to have your client's home listed, give EZ Sign Services a call to set up your professional Real Estate signage. We want to help you succeed.
As a Realtor®, you know how important it is for a successful home inspection. Therefore, you know that walking into an inspection blind is a bad idea. Your clients need to prepare, so there are no surprises. Keep reading to find out how to prepare for a home inspection.
How To Prepare for a Home Inspection

One of the things about being in real estate is you aren't just someone that finds or sells houses, you educate your clients. And one of the most stressful things when buying or selling is preparing for that home inspection so it can pass with flying colors. Read up on how to prepare for a home inspection.
Clear the Perimeter
The inspector looks at the outside of the house as well as the inside. Make sure the areas around the house are clear of debris or plant growth. The inspector needs a full view of the siding, trim, and caulking around doors and windows. This is a great way to start teaching your client how to prepare for a home inspection.
Provide Open Access
Give the inspector easy access to the property, inside and out. This includes attics, basements, under sinks, and furnace rooms. If they can't get into certain areas, they can't inspect them. This might worry the buyer and lead to them backing down from the deal.
Replace Light Bulbs
A blown light bulb can be a signal to the inspector of a number of issues. One of those could be a faulty wiring issue. Make sure all of the bulbs are working properly before the inspection.
Check the Roof
Check the gutters for missing pieces and be sure to clean the debris and moss from them. Search the roof for missing tiles, and make sure the downspouts are in place. If anything's out of order, your clients will want to fix it before the inspection.
Replace Furnace Return Filter
A clean furnace return filter has two great results. It helps your client's house smell fresh, and shows they take care of their furnace.
Turn Pilot Lights On
Make sure the pilot light to the water is turned on. If your client has a fireplace, turn on that pilot light as well. Moving through the property easily will allow the inspector to give a more thorough inspection. This gives confidence to the buyer that they're making the right choice.
Check the Fuse Box
Double-check that the fuse box is labeled properly. If there are any faded or confusing labels, replace them. This makes the inspection a lot easier.
Check the Doors
All doors should be in working condition. Doors should latch into the frame without issues, and all locks should be functioning properly.
Look for Leaks or Water Damage
The inspector will look for signs of leaks and water damage, so you should as well. Have your clients look under appliances, sinks, and around the base of the toilets. Also, look for signs of sagging, buckling, or warping ceilings.
Repair Faulty Cabinets
Check cabinet doors for loose hinges and repair as needed.
Need Help with Your Real Estate Signage?
EZ Sign Service can help make your real estate business an easier process. We store your signs until you need them, and 98% of our installation requests will be completed the next business day. We can also remove them for free. Contact us today.