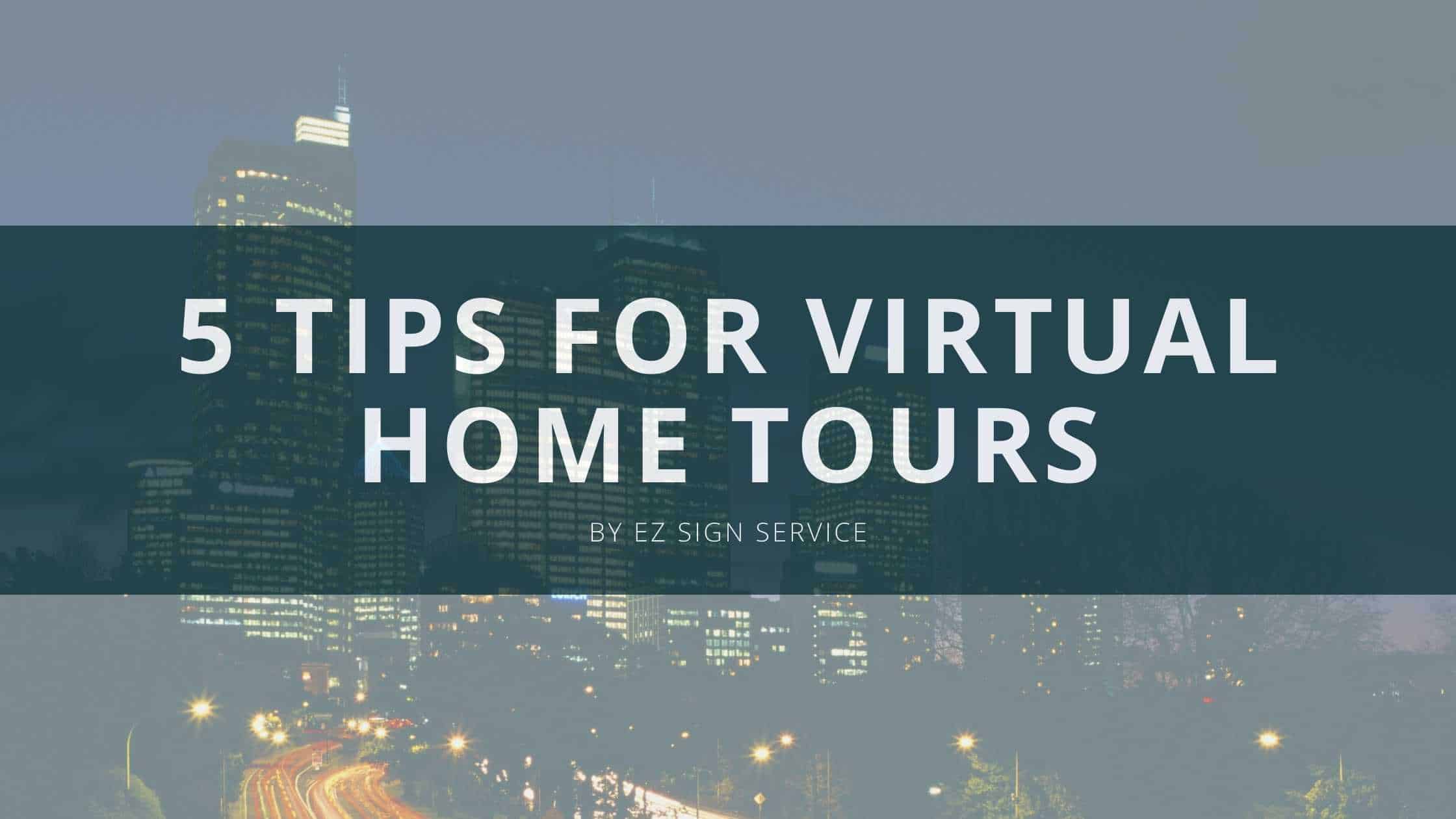 Real Estate is an adaptive industry. In this time of the COVID-19 pandemic, CDC regulations have advised against open houses and in-person tours of homes and properties for sale. This is temporarily put into place to maintain social distancing and clean environments. That being said, our best option for keeping our careers moving forward is by doing Virtual Home Tours.
EZ Sign Service has researched 5 Tips to make your Virtual Home Tours almost as good as in-person tours.
How Do Virtual Home Tours Work?
There are a few options for virtual home tours. The choice is ultimately the seller's and is based on their budget, time, and the equipment of the selling broker. Further, offering more than one option will help you sell the property faster.
A virtual tour is a "walk-through" of the property, either in 3D rendering or with actual video footage. Brokers and agents have used virtual tours as a bonus marketing technique for years, but now it has become essential.
Agents can host virtual open houses by recording a tour for their listing on their phone or camcorder. Buyers can facetime or zoom chat a tour with their agent to see the home before making an offer.
5 Tips to Rock Your Virtual Home Tours
1. 3D Home Tours
Some people prefer visual aids and need to see the measurements of the space to visualize it. With programs like Matterport available to brokerages, you can get a detailed 3D rendering of nearly any property. This allows your buyers to walk through properties of interest on their own devices.

2. Staging
When you record your virtual home tours, make sure the home is clean and well presented. If the home is vacant, virtual staging will help your buyers better envision the space. Virtual staging is less expensive than physical staging and can make all the difference between asking price and a lower offer.
3. Live Open Houses
Offering a live open house on Zoom can show your client's home to many potential buyers at once. Be sure to light the home well, dress professionally, and pre-plan your tour route. Leave time in your planned virtual home tours to answer any questions from those who joined you on the tour.
4. Don't Forget Your Exterior Views
If the house has entertaining space, a pool, or other features outside, make sure to show them off in your virtual home tours.

5. Follow Up
Make sure that you follow up with your viewers or their agents. Send them PDF documents with details on the house that may not be listed in the MLS. Following up an hour or two after the tour, and again 24-hours later will help keep your tour at the top of their minds. It also allows viewers to ask any questions they may have thought of after their discussion with their agent or family.
When you're ready to have your client's home listed, give EZ Sign Services a call to set up your professional Real Estate signage. We want to help you succeed.
Successful real estate agents didn't wake up one day and just started selling properties. Setting up a business in real estate means preparing before making that first step. Keep reading to learn the five ways you can ready yourself as you enter the beginner real estate agent class.
5 Tips for a Beginner Real Estate Agent

Grab your pen and paper and start taking notes. It's a hard job but well worth the work.
1. Treat Real Estate as a Business, Not a Hobby
To make a living as a beginner real estate agent, you have to treat it as a business. If you are an independent contractor, you are the manager of your own business. You'll also need to invest in the courses and training that are relevant to real estate agents. This includes courses on marketing, real estate fundamentals, lead generation, and more.
2. Relationships are Key
Think about your sphere of influence. Who do you know, and who knows you? Once you know the size of your sphere, as beginner real estate agents, you can work to enlarge it. Participate in community and industry activities, and attend local government meetings. Join your local real estate agent association and visit real estate conferences and exhibitions.
Once you've established new relationships, keep them going. Even if they're not currently generating income, it's wise to keep in touch with them. You can send personalized notes, email newsletters, and even birthday cards to potential clients. You can connect with them on social media platforms like Twitter, LinkedIn, Instagram, and Facebook. This keeps you in their minds when they do start looking for real estate.
Every connection you make is an opportunity to grow your business. Even if someone you meet doesn't need your services, they may know someone who does.
3. Save Up Before You Start
You need enough savings to cover your lifestyle for at least six months. If you don't earn a commission or a salary, you'll need to be able to pay the bills. That will allow you to be able to keep going at it without giving up. Keep your day job as a buffer while you get started if you can.
4. You Have to Be a Hustler
Competition in the real estate world is not lax. You'll be up against business like Zillow and Redfin, along with experienced real estate agents. If this is what you want, you have to fight for it and fight hard. Put in the hours and fight to close the deal, no matter what.
5. Use Technology to Your Benefit
Look at useful real estate tools and educate yourself on how they work. You can grow your business if you use these tools efficiently. One great tool to use is Mashboard, which helps you assess investment properties for your clients.
Our Team at EZ Sign Service Can Help
Another great tool is EZ Sign Service, your real estate sign installation and management team. You can manage your signs online, or use our efficient mobile app 24/7. You can track your signs in real-time, and we store and remove them for free. We also install 98% of our signs by the next business day. Give us a call. We'd love to help you succeed.