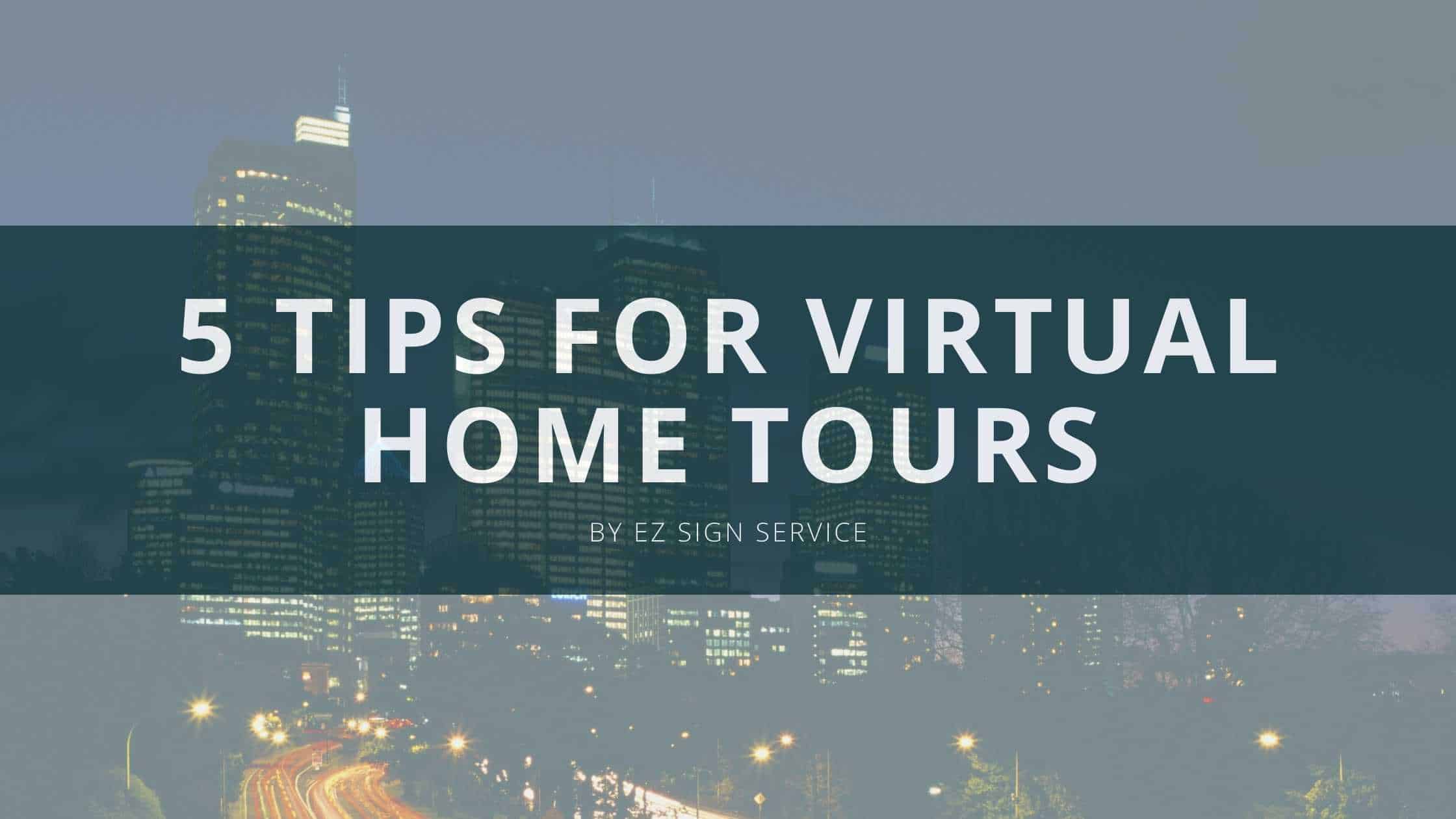 Real Estate is an adaptive industry. In this time of the COVID-19 pandemic, CDC regulations have advised against open houses and in-person tours of homes and properties for sale. This is temporarily put into place to maintain social distancing and clean environments. That being said, our best option for keeping our careers moving forward is by doing Virtual Home Tours.
EZ Sign Service has researched 5 Tips to make your Virtual Home Tours almost as good as in-person tours.
How Do Virtual Home Tours Work?
There are a few options for virtual home tours. The choice is ultimately the seller's and is based on their budget, time, and the equipment of the selling broker. Further, offering more than one option will help you sell the property faster.
A virtual tour is a "walk-through" of the property, either in 3D rendering or with actual video footage. Brokers and agents have used virtual tours as a bonus marketing technique for years, but now it has become essential.
Agents can host virtual open houses by recording a tour for their listing on their phone or camcorder. Buyers can facetime or zoom chat a tour with their agent to see the home before making an offer.
5 Tips to Rock Your Virtual Home Tours
1. 3D Home Tours
Some people prefer visual aids and need to see the measurements of the space to visualize it. With programs like Matterport available to brokerages, you can get a detailed 3D rendering of nearly any property. This allows your buyers to walk through properties of interest on their own devices.

2. Staging
When you record your virtual home tours, make sure the home is clean and well presented. If the home is vacant, virtual staging will help your buyers better envision the space. Virtual staging is less expensive than physical staging and can make all the difference between asking price and a lower offer.
3. Live Open Houses
Offering a live open house on Zoom can show your client's home to many potential buyers at once. Be sure to light the home well, dress professionally, and pre-plan your tour route. Leave time in your planned virtual home tours to answer any questions from those who joined you on the tour.
4. Don't Forget Your Exterior Views
If the house has entertaining space, a pool, or other features outside, make sure to show them off in your virtual home tours.

5. Follow Up
Make sure that you follow up with your viewers or their agents. Send them PDF documents with details on the house that may not be listed in the MLS. Following up an hour or two after the tour, and again 24-hours later will help keep your tour at the top of their minds. It also allows viewers to ask any questions they may have thought of after their discussion with their agent or family.
When you're ready to have your client's home listed, give EZ Sign Services a call to set up your professional Real Estate signage. We want to help you succeed.